Media articles
GOA CHITRA SUCCESSFULLY SHOWCASES A LEGACY
Deccan Herald. 12th April 2009
Devika Sequeira
GOA CHITRA - SHOWCASING TRADITIONAL ECO-FRIENDLY LIFESTYLE OF THE BYGONE ERA.
Vasco Watch. March 2009

PORTUGAL CONSUL GENERAL VISITS BENAULIM MUSEUM
Herald 20th March 2009
HERALD NEWS DESK PANJIM
HE HAS THE ARTEFACTS, NOW HE NEEDS MONEY!
Gomantak Times. 2nd March 2009
DEREK ALMEIDA

'GOA CHITRA' - THE ULTIMATE GOAN EXPERIENCE
Goa Today. February 2009
By Pantaleao Fernandes
INSTITUTING A SENSE OF PLACE
Herald Mirror. 25th January 2009
Savia Viegas

UNABLE TO SEE THE FORESTS FOR THE TREES
Goa Times, Times of India.
CORDELEA WOLFRAM
BLAST FROM THE PAST
Gomantak Times. 24th December 2008
Lisa Monteiro
SHOWCASING HISTORY FOR POSTERITY
Times of India. 13 Dec 2008.
Paul Fernandes
PRESERVING GOAN FLAVOUR
GOA SMILES THROUGH HIS ANCIENT COLLECTION
The Navhind Times. 23rd January 2008
Joao Sousa M. NT Network.
Goa Chitra successfully showcases a legacy
Deccan Herald. 12th April 2009. Devika Sequeira.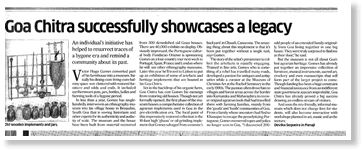 An individual's initiative has helped to resurrect traces of a bygone era and remind a community about its past.
Victor Hugo Gomes converted part of his farmhouse into a museum. Initially his dining-cum-living-cum-balcony space was cluttered with restored furniture and odds and ends. It included earthenware pots, jars, bottles, ladles and farming tools of a bygone period.
In less than a year. Gomes has single-handedly interwoven an ethnography museum into his village house in Benaulim. South Goa that is vowing historians and other experts for its authenticity and audacity of scale. The museum and the house have been built from material recovered from 300 demolished old Goan houses. There are 4O.000 exhibits on display. Obviously impressed, the Portuguese cultural body Fundacao Oriente is sponsoring Gomes on a four-country tour next week to Portugal. Spain, France and London where he will see other ethnography museums. Later this year he'll travel to Lisbon to put up an exhibition of some of artefacts and heritage implements that are housed in his Goa Chitra.
Set in the backdrop of his organic farm, Goa Chitra has cost Gomes his earnings from restoring old houses. Though not yet formally opened, the first phase of the museum houses a comprehensive collection of agrarian implements used in Goa in the pre-electrification era. The focal point of this impressively restored collection is the 16-foot high 'ghano' or oil-grinding implement that Gomes salvaged from someone's backyard in Chaudi, Canacona. The amazing thing about this implement is that it's been put together without a single nail, says Gomes.
The story of the artist's persistence to collect the artefacts is equally engaging. Trained in fine aits, Gomes who is something of a rebel has travelled many roads, developed a passion for antiques and antiquities while a curator at the Museum of Christian An at the Rachol Seminary in the early 1990s. The passion often drove him to villages and forest areas across the border into Kamataka and Maharashtra to recover original agrarian tools that had travelled there with fanning families, mainly from the 'gauda' and 'kunbi' communities of Goa. From a family whose ancestors had fled to Khanapur to escape the proselytizing Portuguese, Gomes recovered ropes and yokes no longer seen in Goa. "I discovered 200 odd people of an extended family originally from Goa living together in one big house. They were truly surprised to find me at their door," he said.
But the museum is not all about Goa's lost agrarian heritage. Gomes has already put together an impressive collection of furniture, musical instruments, sacred art, crockery and even manuscripts that will form part of the larger project to come. Though funding has been a huge constraint and financial assistance from an indifferent state government appears improbable, Goa Chitra has already proved a big success drawing an endless stream of visitors.
And soon the eco-friendly, informal museum which does not charge fees for students, will also become interactive with workshops planned in art. music and architecture.

Goa Chitra - showcasing traditional eco-friendly
lifestyle of the bygone era.
Vasco Watch. March 2009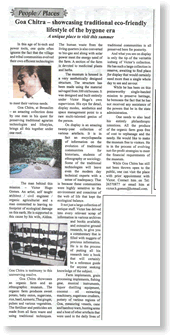 A unique place to visit this summer. In this age of hi-tech and power tools, one quite often ignores the fact that the village and tribal communities evolved their own efficient technologies to meet their various needs.
Goa Chitra, at Benaulim - an amazing collection done by one man in his quest for preserving traditional agrarian technologies and lifestyles, brings all this together under one roof.
The man behind this mission - Victor Hugo Gomes. An artist, self taught architect / civil engineer / organic agriculturist and a man committed to leaving no footprint of ecological damage on this earth. He is supported in this cause by his wife, Aldina.
Goa Chitra is testimony to this unswerving resolve.
Goa Chitra showcases an organic farm and an ethnographic museum. The organic farm produces sweet potato, baby onion, sugarcane, rice, basil, turmeric,Thai ginger, pulses and various vegetables. The fertiliser and pesticides are made from all farm waste and using traditional techniques.
The human waste from the living quarters is also converted to bio-gas and along with solar power meet the energy need of the farm. A section of the farm is devoted to medicinal plants and herbs.
The museum is housed in a very aesthetically designed structure. The structure has been made using the material salvaged from 300 old houses. It was designed and built entirely under Victor Hugo's own supervision. His eye for detail, display modes, aesthetics and space management point to a rare multi-talented genius of the person.
On display is an amazing twenty-year collection of various artefacts. It is in fact an encyclopaedia of information on the evolution of traditional communities for
historians, students of ethnography or sociology. Some of the traditional technologies will leave even the modem day technical experts with a sense of inadequacy. That is because these communities were highly sensitive to the environment and conscious of the web of life that kept the ecological balance.
It's not just a large collection of antique stuff. Victor has delved into every relevant scrap of information in various archives and books available, and extensive ground research, to give you a commentary that is filled with nuggets of precious information. He is in the process of putting all his research into a book that will certainly be a reference guide for anyone seeking knowledge of the subject.
Farm implements, grain processing implements, fishing gear, musical instruments, liquor distilling equipment, coconut oil extracting machinery, sugarcane crushers, pottery of various regions of Goa, measuring vessels, cane and bamboo ware, hunting arms and a host of other artefacts that were used in the daily lives of
traditional communities is all preserved here for posterity.
And what you see on display is only the tip of the veritable iceberg of Victor's collection. He has such a large collection in reserve, awaiting to find place for display that would certainly need more than a single whole day to see and savour.
While he has been on this praiseworthy single-handed mission to preserve heritage, he bemoans the fact that he has not received any assistance of the powers that be in the state administration.
One needs to also laud his entirely philanthropic intentions. All the produce of the organic farm goes free of cost to orphanage and the needy. He would like to make the museum free to visitors. He is in the process of evolving not-for-profit strategies to meet the financial requirements of the museum.
While Goa Chitra has still not been thrown open to the public, one can visit the place with prior appointment with Victor. Contact him on Tel: 26570877 or email him at victor.h.gomes@hotmail.com.
---
Portugal consul general visits Benaulim museum
Herald 20th March 2009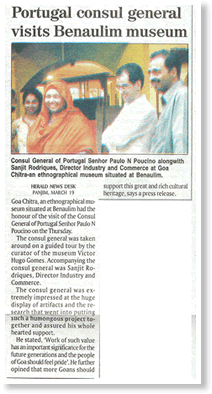 HERALD NEWS DESK PANJIM
Goa Chitra, an ethnographical museum situated at Benaulim had the honour of the visit of the Consul General of Portugal Senhor Paulo N Poucino on the Thursday. .
The consul general was taken around on a guided tour by the curator of the museum Victor Hugo Gomes. Accompanying the consul general was Sanjit Rodriques, Director Industry and Commerce.
The consul general was extremely impressed at the huge display of artifacts and the research that went into putting such a humongous project together and assured his whole hearted support.
He stated, 'Work of such value has an important significance for the future generations and the people of Goa should feel pride'. He further opined that more Goans should support this great and rich cultural heritage, says a press release.
---
He has the artefacts, now he needs money!
Gomantak Times. 2nd March 2009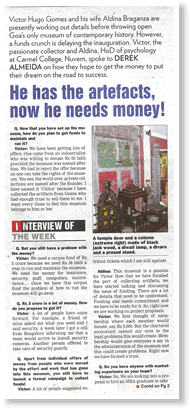 Victor Hugo Gomes and his wife Aldina Braganza are presently working out details before throwing open Goa's only museum of contemporary history. However, a funds crunch is delaying the inauguration. Victor, the passionate collector and Aldina, HoD of psychology at Carmel College, Nuvem, spoke to DEREK ALMEIDA on how they hope to get the money to put their dream on the road to success.
Q. Now that you have set up the museum, how do you plan to get funds to maintain and
run it?
Victor: We have been getting lots of offers. One came from an industrialist who was willing to donate Rs 50 lakh provided the museum was named after him. We had to reject the offer because no one can take the rights of the museum. You see, the world over, private collections are named after the founder. I have named it 'Chitra' because I have, collected the artifacts from Goans who had enough trust to sell-them to me. I want every Goan to feel this museum belongs to him or her.
Q. But you still have a problem with the money?
Victor: We need a corpus fund of Rs. 3 crore because we need Rs 36 lakh a year to run and maintain the museum. We need the money for insurance, security, staff, computers, maintenance.... Once we have this corpus fund the problem of how-to run the museum will go away.
Q. Rs 3 crore is a lot of money. How do you propose to get it?
Victor: A lot of people have come forward. For example, a friend of mine asked me what you need and I said security. A week later I got a call from Bangalore informing me that a team would arrive to install security cameras. Another person offered to take care of security guards.
Q. Apart from individual offers of money from people who were moved by the effort and work that has gone into this museum, you still have to launch a formal campaign to collect funds!
Victor: A lot of people suggested entrance tickets which I am still against.
Aldina: This museum is a passion for Victor. Now that we have finished
the part of collecting artifacts, we have started talking and discussing the issue of funding. There are a lot of details that need to be understood. Funding also needs commitment and we have to be ready for it. So, right now we are working on project proposals.
Victor: We first thought of membership where each member would donate, say, Rs. 5,000. But the chartered accountant opened our eyes to the legal problems this would create. Membership would give everyone a say in the administration of the museum and this could create problems. Right now we have formed a trust.
Q. Do you have anyone with marketing experience on your team?
Victor: No. We are looking into a proposal to hire an MBA graduate to take care of this area. But right now we are studying the scheme of the Union Ministry of Culture. I have to submit my proposal by March-end. But again there are problems. You have to have a Society which first owns the exhibits.
Aldina: We are also looking at the future. What will happen to the museum once we are gone? Most museums around the world run well as long as the founder is alive. We have to look at what happens after that.
Victor: We want it to be an institute. We have already launched workshops.
Q. Why are you against entrance tickets?
Victor: We are not against it. To do this we have to involve vested interests in the tourism industry. According to the research, I found that a part of the ticket money has to be paid as commission to these interests.
Q. That's marketing. What's wrong with that?
Aldina: We are not looking at what is right or wrong. The cost of putting this museum together cannot be recovered from tickets. We got some feed back from people and the rates that we were looking at was Rs. 100.
Q. Why don't you link up with the five star hotels in the South?
Victor: Yes, we are looking at this option. If at all we have an entrance fee it has to be minimum. Also, we don't want the entrance fee to come in the way of people coming to the museum. We would also like to keep one day free for locals.
Q. Is the financial crunch holding back the inauguration?
Victor: Yes.
Aldina: We have spent every paisa to put this together. We are going slow because of it. Funding will fall in place. Everybody who has come here has connected with the place.
Victor: Keith Vaz has promised to launch a one dollar campaign among non-resident Goans.
Q. Have you made any proposal to the state government for funds?
Victor: I invited representatives of the government to first see the exhibits, but no one turned up. I can make a proposal only after a government representative sees it. The Archaeological Survey of India responded immediately. They visited the museum. Tahir even phoned me from Delhi and urged me to apply for the Asia-Pacific Award.
---
'Goa Chitra' - the ultimate Goan experience
Goa Today. February 2009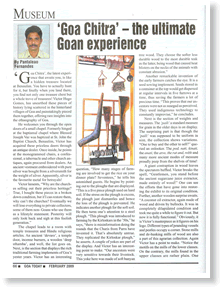 By Pantaleao Fernandes
Goa Chitra', the latest experience that awaits you, is like a hidden treasure located at Benaulim. You have to actually hunt for it, but finally when you land there, you find not only one treasure chest but a whole trove of treasures! Victor Hugo Gomes, has unearthed these pieces of history lying scattered in the hinterland villages of Goa and painstakingly pieced them together, offering rare insights into the ethnography of Goa.
He welcomes you through the open doors of a small chapel. Formerly hinged at the baptismal chapel where Blessed Joseph Vaz was baptized at St. John the Baptist Church, Benaulim, Victor has acquired these priceless doors through an antique dealer. Once inside, he points at the monogrammed chairs, a confessional, a tabernacle and other church antiques, again procured from dealers. An ancient vestment embroidered with pure silver was bought from a silversmith for the weight of silver. Apparently, silver is the favourite metal for betrayals!
Victor laments, "Why are the churches selling out their priceless heritage? True, I bought these pieces in a broken down condition, but if I can restore them, why can't the churches? Eventually we will lose everything to private collectors, some of them non- Goans who use them as a lifestyle statement. Posterity will only look back and sigh at this foolish generation."
The chapel leads to a room with temple treasures and Hindu religious articles. An ancient 'devaro', a temple door, incense burners, a wooden 'deep sthamba', and well, the list goes on. Next, is the section that displays the rich traditional fanning implements of Goa's yester years. Victor has an interesting question, "How many stages of farming are involved to get the rice on your dinner plate? Seventeen," he tells his astonished guests. He begins by pointing out to the ploughs that are displayed. "This is a five piece plough used on hard soil. If the stress on the plough is excess, the plough just dismantles and hence the loss of the plough is prevented. He indicates another plough for the soft soil. He then turns one's attention to a steel plough. "This plough was introduced to fanning by the Kirloskars in the '50s," he says, "there is misinformation doing the rounds that the Charis from Pana have invented it. That's absolutely untrue. They replicated the Kirloskar plough," he asserts. A couple of yokes are part of the display. And Victor has an interesting point to make. "Our ancestors were very sensitive towards their livestock. This yoke here was made of soft banyan tree wood. They choose the softer less durable wood to the most durable teak as the latter, being wood that caused heat blisters on the necks of the animals with constant abrasion."
Another remarkable invention of the early farmers catches the eye. It is a seed sowing implement. Seeds stored in a container at the top would get dispersed at regular intervals in five furrows at a time, thus saving the farmers a lot of precious time. "This proves that our ancestors were not as susegad as perceived. They used indigenous technology to constantly improvise," he concludes.
Next is the section of weights and measures. The 'paili' a standard measure for grain in the older days is on display. The suiprising part is that though the 'paili' was supposed to be uniform in size, the collection shows variations. "One to buy and the other to sell?" queried an onlooker. The pod, nati, kinati, the anati, the atvo, the rat and, robh and many more ancient modes of measure proudly peep from the shelves of time!
A giant contraption in wood leaves the spectators baffled. Victor breaks the spell, "Gentlemen, you stand before the ancient sugarcane juice extractor, made entirely of wood!" One can see the efforts that have sone into restoring the exhibit to its original condition. Further, another wooden surprise awaits. "A coconut oil extractor, again made of wood and driven by bullocks. It was in completely dilapidated condition and took me quite a while to figure it out. But now it is fully functional." Obviously, it is Victor's masterpiece as it figures on his logo. Different types of pounding vessels and pestles occupy a corner. Stone mills and de-husking mills of wood are also a part of this agrarian collection. Again Victor has a point to make. "Notice the motifs on the mills of the lower classes. On the contrary, the mills found in the upper classes are rather plain. Onecan conclude then that the lower classes considered their implements as precious objects, almost worshipped, them. Whereas, for the upper classes they were mere tools of utility to be worked upon by servants."
A whole array of tools touches your curiosity. Of particular significance is the 'xhap' used by coconut pluckers. The xhap has numbers which would be imprinted upon the coconut tree to indicate the number of coconuts that would be expected per pod during the next plucking session. 'Thus the mundkars were made accountable and robberies were rare," says Victor.
A wall display shows muski (muzzles), gadgadis (wooden rattlers), dains (harness), and an unusually long flute. "This is a very rare flute," says an emotional curator-owner of the collection. "The dhangar used to play this flute and gather his herd. It also had a pacifying effect on agitated cattle. It would even calm down a wild beast," he says. "In fact, I arranged for a nonagenarian to play this flute on the opening day." "The ropes made to fasten cattle were made of soft 'Kombor tree bark fibers, again preventing injury," he remarks. "We were self sufficient using material that was found in our surrounding. And today, one finds nylon ropes being used, displaying utter disregard to the animals," he concludes.
Other well displayed sections in agriculture are pulverisation tools, inter-culture tools, draft animal implements, storage implements, harvesting tools, post harvest tools and so on.
After passing by ancient modes of transport like carts and palanquins, a bamboo craft section comes into view. Fish traps (Khuf), rain shelters (khondo), forms for sannas (Sanneao) and storage implements, all vie for attention.
Next is a section on pottery. In the years before aluminium invaded Goan kitchen, the Goan potter ailed the roost. One can see cudriis, budkulos, mattul, bhan, khom-pro, launni, sotel, kodem, dhon etc "See the difference between the north Goa and the south Goa pottery," points out Victor. "The north Goa potters made a ridge on the surface while the south Goa potter made his pots round."
Another section that should intrigue musicians displays all types of blowing instruments. Valve trombone, C-Tenor Saxhophone, Soza phone, corneto. clarinet with an extra key etc. Other sections include kitchen implements, tools of trades, metal implements, traditional toys and machines (candle, soda, ironing, icecream).
In fact, what is mentioned here is perhaps the tip of the iceberg. Victor Hugo Gomes invites one and all to unravel the mysteries of our past and to turn back the time!
---
Instituting a sense of place
Herald Mirror. 25th January 2009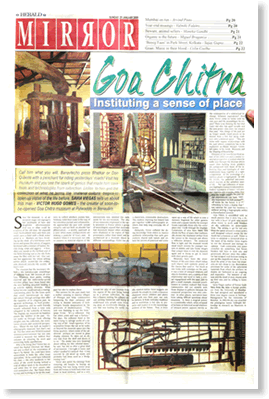 Call him what you will. Banavlecho pisso Bhatkar or Don Quixote with a penchant for riding yesterdays roads! Visit his museum and you see the spark of genius that made him save tools and technologies from extinction. Listen to him and the collection ot what he terms the 'material culture' begins toopen up vistas of the life before. SAVIA VIEGAS tells us about this man - VICTOR HUGO GOMES - the creator of soon-to-be-opened Goa Chitra museum at Pulwaddo in Benaulim.
Since the museum is at an incipient stage, not signage's but landmarks of bars and Kingfisher advertisements lead you to what could be a quinta of the old days. An unpaved road, horticultural trees and then you come upon a field with a fresh water pond in it. Workers are busy breaking up the clods of a rich brown earth moist and grainy like pieces of jaggery fertilized with a mixture of humus, bovine dung, urine and jaggery. A brindled cow stands at the farthest end of the field chewing cud as she idly flicks away the flies with her tail. One cannot but appreciate the whole setting within which womb-like the embryonic museum unlocks the secrets of Goa's past.
The museum has the necessary vibhuti - the kaleidoscopic assemblage of material from 300 houses all over Goa. Windows, door jambs, roofing material and the elaborately-carved wooden pillars have been fused into the new building structure lending it an eclectic stylistic diversity. What better karseva could embody a resting-cum-nesting place for the Goan spirit that could kaleidoscope its material culture through settings that offer the vignettes of its religious past, its agrarian technology, its food production apparatus, and its earth friendly vessels exhumed from a time now relegated to the cobwebs of history. The displays are mounted on bamboo panels like 'stillifes' of the past. Victor walks us through them offering insights into his collection, the restoration process and curatorial perspective. Whoa! He has built an insider's ethnography museum! And that's not all. This fine artist and INTACH-trained restorer/conservationist has not only created a museum but written four volumes on situating his work and correcting faulty appellations.
Why is he doing this? Victor has curated the Rachol Christian Art Museum and worked on the restoration of Agra's Taj Mahal. He could have been somewhere in India like other Goan specialists. Or he could have followed his class — the elite landlords to the cities of the world leaving behind a trail of fallow lands to be encashed at will while they let their careers take root someplace else. But Victor chose to stay and in doing so he let the madness to collect artefacts posses him. Nothing could then come in the way of his relentless pursuit and exhumation. He approached the past with certain integrity and not bent on plunder but preservation - a worthy approach at a time when many configurations are making a pastiche of Goa's past. In modem times it is necessary not only to connect to material objects of the past but also to explain them.
This passion for the past made him a stalker camping in interior villages of Dhangar and Velip communities bargaining for their castaways and trying to disinter remnants of technologies heavily marginalized by the processes of modernisation. "The task was daunting to say the least," quips Victor. "It's a collection that has taken years and cost a fortune." For days, the collector lived in the open trying to salvage works of a dying 'way of life'. Small vignettes of his acquisition forays slip out as he walks us beyond the museum space into the living quarters where some of the additional artifacts are stored in glass display cabinets. He takes out an ebony club from the shelf and shows it to us:" The dealer was very skeptical about selling me this colonial mace," he says, but did so after a great deal of persuasion. I brought it home and when I studied it I noticed that it was covered by old dried up stains and probably had been used as a bludgeoning tool."
Victor also spent his earnings from restoring old houses to buying up anything that was being towed away from old homes to hold back what was Goan in local territory, and in a very unconscious way, planted the early seeds for his eco-museum. The idea of eco-museums originated in the early seventies in France where a group of museologists argued that museums had maximum impact when artefacts were displayed in the region of their provenance, rather than travel and be aesthetized as a museum object in different surroundings. Victor too abhorred the idea of rare treasure from the region of his past being locked up in a private collection. He was like a flaneur visiting his cultural terrain picking castaways and trying to understand why people were frittering away an eco-friendly lifestyle for one that was leading the world into a charm-less, irreversible destruction. This endless churning has helped him put together 4,000 enthnographic artifacts that help map everyday life of Goans.
Alongside, Victor collated the dying knowledge from elders to nuance symbiotic relationship that early generations shared with nature and unlock the secrets of practical and scientific wisdom before these nuggets are erased. He sought to create a museum classroom where children and adults could walk into their past, not only to retrieve it from everyday tradition and to aesthetize it but also to preserve and nuance it in the knowledge archives of the future. True, it does
open up a way of life which is now a memory fragment for older generations and a quaint novelty for younger Goans especially those who live someplace else. I walk through the displays. Constraints of area have made him shrink the flow of space that traditionally divides the displayed artifact from the viewer in the museum and allows a reflective distance. The curatorial flow is tight and the museum would need touch screens for younger visitors to dabble and take home images that compel them to visit the museum again and in doing so get in touch with their genetic past.
Museums have been the store houses of the past times which imbue such objects with symbolic power of the classes that used it. For much as one looks with nostalgia on the past, it was a time of unequal relations and objects therefore carry a patina of that relationship and need to have a critical engagement with the past. Just to give a small example, museum practitioners In London realized that Asian communities did not identify with Asian displays in galleries because the curatorial perspective was very colonial. In other places, spectators have been asking difficult questions about museums. Is there a magical power to a commodity which, when stripped of its basis in historical social relations of unequal power, appears merely as the consequence of a contractual exchange between equivalents? How does Victor come to terms with his own past and the assemblages he creates? There Is no denying the fact that Goas Old elite has aged socially and the new power class does not respect that past. Also things of the past are no longer simply visual pieces to be moved from a live but dying tradition onto a museum space. "They are items with organic relationships with the past whose complexity has to be explained, as Eilean- Hooper- Green-hill states in her book, Museums and the Shaping of Knowledge.
Glimpses of the non-hierarchical nature of his collection and a similar curatorial perspective is evident when he walks you through the displays where upper class husking stone grinders are juxtaposed with those of the labouring class and typologies of iron implements hang together in a tight composition. Or the technology of a nail-less ghano is highlighted. Or still the konde, the palm-leaf rain-cover, which marvels at the subaltern ways of life. The vast collection of measures highlights transactional practices. Endless typologies of buyaos and urns and rogodos and actories while they trip the magic carpet to the past for the experienced, can have opposite experience on kids poised take off mode for the future. It is indeed refreshing to have a display that does not valorize the past but retrieves it without writing a hagiography within a disenchanted present.
Goa Chitra is assembled with so much passion that it does beg a donor with a heart of gold who would allow Victor to work with freedom on the collection he understands best. The setting is apt for not only does the space around it create a very well designed cultural centre for the South but a museum as well. Victor is keen to establish a memorial trust in the name of his mother Dona Angela to run the museum and manage its upkeep. Cash constraints and space crunches are something that future funders will have to look into and generously allocate since this collector has scraped rock-bottom trying to put up this magnificent show. It is indeed the pride of the State but museums are not cheap, to run. Restoration processes for some of the ephemeral materials from which the artifacts on display are fashioned in are ongoing and expensive. The ministry of culture and the head of state should perk up their ears and be willing to listen and give.
Savia Viegas author of fiction book 'Tales from the Attic' is former professor from the University of Mumbai. She had designed and introduced a three year degree course in Heritage Management for the University of Mumbai. In 2003-04 she was awarded the prestigious Senior Fulbright Fellowship to research on Museums in the USA.
---
Unable to see the forest for the trees
Goa Times, Times of India.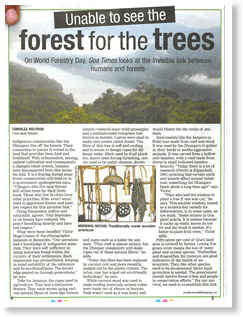 On World Forestry Day, Goa Times looks at the invisible link between humans and forests.
CORDELEA WOLFRAM
Times News Network
Indigenous communities like the Dhangars live off the forests. Their connection to nature is rooted in the land that provides them food and livelihood. With urbanisation, mining, cashew cultivation and consequently a changed value system, humans have disconnected from this invisible link. It is a fraying thread some forest communities still hold on to. A government spokesperson says, "Villagers who live near forests still utilise trees for their livelihood. Those who live in cities have other priorities. Kids aren't sensitised to appreciate forests and have lost respect for this invisible link."
Parag Rangnekar, author and naturalist, agrees. "Our dependency on forests have reduced. We aren't benefiting directly and have lost respect."
What were these benefits? Victor Hugo Gomes of the ethnographic museum at Benaulim, "Our ancestors had a knowledge of indigenous materials. They were self sufficient in using materials found within the vicinity of their settlements. Each implement was premeditated, keeping in mind suitability of the substance and its eco-friendliness. The knowledge passed on through generations," he says.
Take for instance, the ropes used in agriculture. They had a distinctive feature. They were woven using various natural fibres of trees like kivann,
sutachi/redeachi-anas (wild pineapple) and a medium-sized evergreen tree known as kombio. Leaves were used to make rain covers called kondo. The fibre of this tree is soft and cooling and is woven to design ropes for different tasks: Shale used by fruit pluck-ers, davon used during thrashing, cannio used to tie paddy sheaves, davem
and zupni used as a halter for animals. "This craft is almost extinct, but the Dhangar community still make ropes out of these natural fibres," he adds.
"Today this fibre has been replaced by coconut coir and more recently, nudged out by the plastic culture. The nylon rope has wiped out eco-friendly technology," he says.
While coconut wood was used to make roofmg materials, animal yokes were made out of shevon or banyan. Teak wasn't used as it was heaty and
would blister the the necks of animals.
Instruments like the konpavo (a flute) was made from reed and wood. It was used by the Dhangars to gather in their herds or soothe aggressive animals. It was carved from a hollow velu bamboo, with a reed made from shir at (a small hollowed bamboo branch). "Today, there is a lot of research (Peretti & Kippscludi, 1991) pointing that certain pitch and sounds affect animal behaviour, something the Dhangars knew about a long time ago!" says Victor.
"They also had the wisdom to plant a tree if one was cut," he says. This ancient wisdom, touted as a modern-day remedy for , deforestation, is in some cases, an eye wash. "Some miners in Goa plant acacia. It is useless because it sucks up water, leaves do not rot and the wood is useless. It's better to plant fruit trees," Victor adds.
Fifty-seven per cent of Goa's land area is covered by forests. Losing this green cover means the loss of many plant and animal species. "Butterflies and dragonfLies, for instance, are good indicators of the health of an ecosytem. They like other species, need to be documented. Strict legal protection is needed. The government should involve forest tribes and people in conservation efforts." For our survival, we need to re-establish this link.

cordelia.francis@timesgroup.com
---
Blast from the past
Gomantak Times. 24th December 2008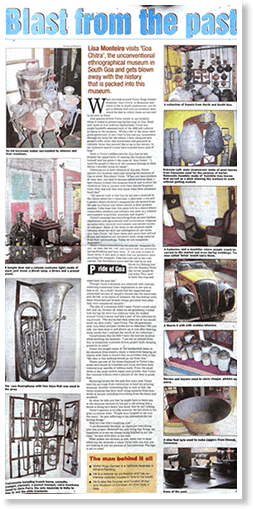 Lisa Monteiro visits, Goa Chitra', the unconventional ethnographical museum in South Goa and gets blown away with the history that is packed into this museum.

When you look around Victor Hugo Gomes' museum, 'Goa Chitra' in Benaulim and listen to his in depth explanation, you begin to fathom that only an eccentric man would be able to collect items as rare and as ancient as these.
And passion driven Victor surely is, particularly when it comes to preserving the heritage of Goa. Head over heels in love with his motherland, Victor has single handedly amassed each of the 4000 odd cultural artifacts in the museum. "While a few of the items were given generously to me, I had to beg and pay (sometimes through my nose) for the others. I have ventured into people's lofts, attics and storerooms and procured in valuable items that seemed like scrap to the owners. In my extensive search I must have traveled every inch of Goa.
Such is Victor's selfless love for Goa that he has forgone the opportunity of naming the museum after himself and has given it the name of 'Goa Chitra'." I, want the people to feel as if the museum belongs to them. Hence, I avoided using my name".
Choosing not to have children of his own, Victor opened this museum especially keeping the children of Goa in mind. Elucidates Victor, "When you have children of your own, you tend to become selfish towards them. I have chosen to keep this museum free of cost to allow the children of Goa to connect with their almost forgotten roots. How else will they ever know what their ancestors lived like?"
"My special wish is that this be not just a museum in the classic sense but a classroom, a playroom, a zoo and a garden where children's imagination can stretch from the past to a future and where nature is their greatest passion. I also hope that this place will be a centre where researchers, students and scholars can meet in a creative environment to provoke, stimulate and inspire." Victor's museum has everything from ancient kitchen implements and agricultural tools to furniture, religious paraphernalia, musical instruments and ancient modes of transport. Many of the items in the museum speak - volumes about the skill and intelligence of our ancestors. Says Victor, "all these items only prove how self-sufficient and sensitive our ancestors were, using material from their surroundings. Today we are completely dependent"
Many a times contradicting the popular 'susegado Goans', an item like the 'cud' only proves that our ancestors led hardworking and busy lives. "If you look at some of these items, It only goes to show that our ancestors were anything but susegado. Take the crab cud or the crab catcher. Our forefathers never had the time to sit and throw in a fishing line into the Mandovi River like we see people doing today.
They used to leave this trap and comeback the next day".
Though Victor's museum is a relatively new concept, collecting traditional Goan implements is not new to him at all. "As a child I would find the neglected and untouched corners of people's houses like the storeroom and the loft, to be stores of treasure. My fascination with these discarded and broken things persisted even after they were considered obsolete." ' The idea of a museum didn't enter Victor's mind until last year on, October 29, when an old gentleman visited him during the Save Goa Abhiyan time. He walked around Victor's house and saw a part of his collection lying around. "The wordsthat then came out of his mouth • made my skin crawl," says Victor. The old gentleman said "Ami fokot ulovpak, tuvem korun dakoilem"(We just talk, you have done it and shown us) It was after hearing those words that I realized the worth of my collection."
Victor insists that he didn't have the tourists in mind while building the museum. "I am not an industrialist, this is completely a passion driven project built, keeping posterity in mind."I
Victor has bought many of the handpicked items in his museum from dealers, many a times even keeping advances with them to ensure that no priceless item is lost "My, idea is that nothing should go out from Goa."
Ninety percent of the items displayed in Victor's museum were found in crumbles and ruins and have been restored over months of tedious work. From the small items to the large nailess sugar cane grinder, that Victor has restored without even a picture of the item to guide him.
Restoring houses for the past five years now, Victor uses his earnings from restoration to fund his growing museum. Another interesting fact to note is that, the entire museum has been built using material from hundreds of, houses including everything from the doors and windows.
So when he tells you that he might have to leave you at the museum because he has got a call stating that a house is being torn down.'you know that he isn't joking.
Victor's passion is no joke however. He has stuck to his guns no matter what. "People have laughed at me over the years," he says referring to his infatuation for collecting things."
Well let's see who's laughing now!
"I am financially finished, as I have put everything Into this project. However? the only thing that brings me happiness is to see my dream being fulfilled in my lifetime," he says with tears in his eyes.
What makes you exclaim in awe, when you're done admiring the museum is when Victor tells you that you are looking at just ten percent of his collection. The best is yet to come!
The man behind it all
• Victor Hugo Gomes is a National Awardee in Art and Painting.
• He is a restorer by profession and has numerous restored houses in Goa to his credit.
• He isalso the founder and Curator of the only Museum of Christian Art (Old Goa) in Asia.
---
Showcasing History For Posterity
Times of India. 13 Dec 2008.
Paul Fernandes

It is a tribute to our forefathers, their eco-friendly agrarian techniques, their traditional way of living and their deep concern for the environment," Victor Hugo Gomes says of his Goa Chitra Museum.
The soon to open museum that's based in Benaulim is filled to the brim with objects ranging from occupational tools to quaint utensils and even rare instruments such as preparing technology used for milk products.

The Journey
Angered by people's visionless shift to modern utilities and filled with pride about Goa's traditions. Victor, 40, was driven by a searing passion to collect rare things for posterity. A fine arts graduate and national award-winning painter, the trained heritage conservationist spent almost half his lifetime hand-picking the pieces from remote corners of Goa.
"I gathered old and discarded implements and tools from attics and storerooms simply because they were mementoes of a fading lifestyle," he recalls. "I spoke to elders in different places and was shocked to learn that many things were lost, but tried to document the ethnicity and rituals associated with every item I collected," he adds.
Only an eccentric could have filled such a museum single-handedly, many think. "I lived a lot in forest areas and slept and lived in difficult conditions while gathering them," he recalls. He transported them in his car, unmindful of damaging it, often loading it with wooden objects such as the whole jaggery-making plant (photo below).
Wife Aldina. a college lecturer, adds, "If Victor heard of houses being broken down he would rush to pick up pieces he could find. He would just rush to the remotest corner, even if dead tired, to source material. People even laughed at his strange passion."
In fact, Victor broke the marriage covenant of having children in his bid to leave a rich legacy for Goa's children, says Aldina. "It was a difficult decision but one made by choice," she stresses.
Finances were another point. Victor poured all his earnings into fulfilling his dream. Having studied restoration and conservation at the Indian National Trust for Art and Cultural Heritage (INTACH), he returned to Goa and helped set up the Christian Art Museum and later, eked out a living by restoring old houses. "Whatever I earned from my restoration work went into gathering and saving these rare objects from extinction," he says. Most of the objects were badly battered by the elements and neglect. His experience as a curator helped in their painstaking restoration. "A team of workers and carpenters worked for several months. Some objects needed extensive restoration while very few were picked up from antique shops at great cost and few were gifted by friends," he says.
As the collection grew into a treasure-trove, realization hit Victor about its richness and inestimable value."We think modern technologies are the best, but the pieces collected show the hardwork, wisdom and ingenuity of our ancestors."
Museum, Ahoy!
The construction of the museum for the large assortment of objects, designed by himself and set against the backdrop of the organic farm - another showcase of his skills - took three years to complete. Built bit by bit.
"The material for the house, right from stones to wood for the roofing and to the doors and windows, came from 300 houses from all over Goa," says Victor. Aldina adds, "Victor has a scientific mind and being creative as an artist there's no half way for him."
Victor has formed a trust in his mother's name, Dona Angela Memorial Trust, with the long-term objective of securing the museum's upkeep and management in the future. "The museum should be a place where children can walk in freely and enjoy man's link with nature and culture - a classroom, a playroom, zoo and garden for them."
He dislikes that antiques today have become "lifestyle objects" for the nuveau riche. "They do not understand the object's value and utility," he opines. Explaining the ingenuity of implements crafted by artisans of yore, he says, "Take the crab catcher apparatus for instance, there's no way the crab can come out from this simple bamboo trap."
"We are dying as a society and once we have lost our old technologies it means we regress to primitivity," Victor, for whom modern amenities hold no fascination, philosophizes. "My aim is to put our heritage and indigenous technology on the world map and the museum should create a sense of pride for our culture among our youth," he concludes.

Antiquity's Ingenuity
Kerosene-fired refrigerator, iron, fan, oven, lamps, petromaxes
Nail-less ghano (wooden machines) that extracted oil and sugarcane juice (for jaggery)
Traditional games such as tabulam (board game of chance)
Ploughs that suggest the types of soils-hard, soft and sandy-they were used on
Spike roller used to soften soil after ploughing, before sowing
Seed drill machine that helped farmers sow seeds automatically
Musical instruments, including valve trombone, C-tenor saxophone, souzaphone, gumot, temple drums and surpanvo (shepherd's flute)
Rare wooden kitchen and service implements such as shovge (vermiciile makers); also scrapers, graters and milk churners
Ancient modes of transport such as bridal cart, bridal palanquin, religious palanquin, calderina (a seated palanquin)
Weights and measures, including ancient rato, rob and tolas, besides measures of volumes
Canework, including kondes (raincoats), mats, baskets, fish traps
Grinders, wash basins, rice dehuskers
Pottery pieces
Tools and implements used by carpenters, metalsmiths, goldsmiths and others
PRESERVING GOAN FLAVOUR
Goa Smiles through His Ancient Collection
The Navhind Times. 23rd January 2008

JOAO SOUSA M. NT Network.
In this modern age where Goa and Goan heritage is being destroyed Goa can still afford to smile, thanks to an inspirational effort by Mi Victor Hugo Gomes, whose vision has led to creating Goa's first ethnography museum at Benaulim, which will be the home to around 40,000 odd items ranging from ancient agricultural tools to ancient jewellery to ancient pottery.
Mr Gomes dared to dream of collecting the ancient objects artifacts etc, never realising that someday he will come up with a museum, 'Goa Chitra'. He said that his journey has not been easy as people from The village ridiculed him and even mocked him, never believing in his abilities.
The collector informed that his love for antiques dates back to his childhood days after he was inspired by his mother, who used to take care of the old things in the house. He recalls how curiosity led him to find out more about the ancient tools that were being used at his own house which led him to the store room, a place where children were net allowed, where he stumbled upon ancient teasures.
He said he spent over three years away from home and while he was in Lucknow, he used to observe that every Sunday antiques from the 'nawabs' homes were being put on sale, which used to attract a lot of people from all over the country, which further added to die curiosity, Ts this also happening in Goa?'
He later returned to Goa and set up the Christian art museum. At the time, he visited every church to identify, document and to collect exhibits and in the process realised that the churches in Goa had a lot of treasures that were being destroyed due to neglect.
He said it hurt him a lot and he wanted these things to stop and he suggested that every church has its own museum while the Christian art museum remains as the mother museum. But things didn't work out and he eventually quit in 1994.
Mr Gomes said, "The Goa Chitra museum is an answer to a lot of unanswered questions, which I wanted to find." He said that the aim of the museum is to collect, restore and document traditional implements, tools and material culture of the Goan people for the contemporary society.
Mr Gomes also informed that the museum aims and documents empirically, traditions and their accompanying rituals for research, to acquaint people with the level of indigenous and environmentally technology that was used by our ancestors to live a sustained lifestyle and connected to nature among others.
He suggests, "For the love of Goa and its artifacts etc, the government should make ethnography as a subject. The students are thought the history of India and the world, but not Goa, which is very sad."
He said that this museum will also help in protecting the Goan identity. Besides the museum, he is also looking forward to documentation based on the oral history and will cover things that have never been written before. The museum will be inaugurated shortly, but before that one has to salute this man for preserving Goa for posterity.